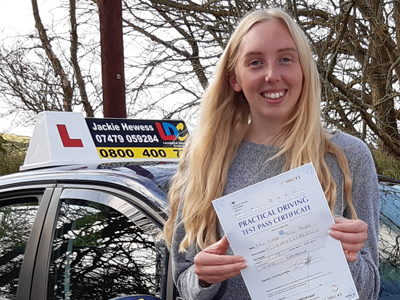 Katie Allen
Patient instructor
I couldn't recommend Jackie enough. After a long break from driving she helped me feel comfortable driving again and confident enough to pass my test. She's a great instructor if you're nervous or worried about driving. The LDC workbook and online portal were also really helpful in preparing for the theory test and lessons. Very grateful for Jackie's patience and encouragement, I wouldn't have passed without her!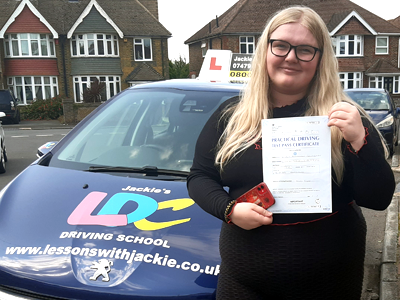 Georgia Collingham
Passed on 2nd attempt
My driving lesson experience was fantastic from the get go. Jackie instantly made me feel at ease and massively helped with my confidence. Jackie builds a positive relationship with you so there is no pressure when in the lesson, only support. Although I didn't pass my first test, Jackie kept my motivation up which led to me doing my second test with ease and inevitably passing with a low number of minors. Jackie is very patient and supportive which is key when needing an instructor. The LDC theory test preparation was a life-saver. It really helped me pass. What was especially helpful was that Jackie could see my results and therefore help me in the areas I was struggling with. I would and will recommend Jackie to everyone that needs an instructor.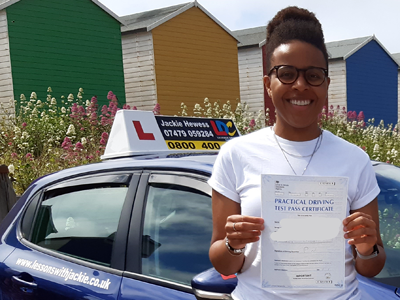 Lilly Knight
Passed 1st Time
I can honestly say that Jackie has hands-down been the best instructor I could ask for. Her style of teaching is great and her patience is admirable! I had a different instructor 6 years before, but did not make much progress due to the disjointed teaching style and not have the opportunity to reflect on what I had learnt. With Jackie and the LDC curriculum, I learned everything I needed in a systematic and progressive way and had the opportunity to ask many questions (and Jackie would always have time for my countless queries). Jackie has made me actually begin to enjoy driving and has given me the confidence to go on and continue driving. 10/10, 5 stars. Thank you for everything Jackie!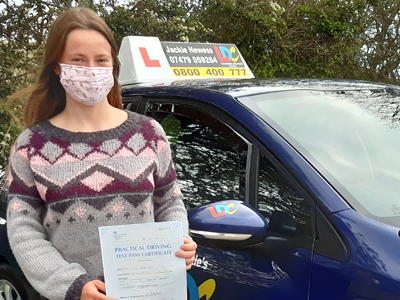 Lois Brewer
Passed on 2nd attempt
Jackie is a great instructor who is always patient and lets you pick your own pace whilst learning. I never felt pressured or worried as I got to choose what I personally wanted to work on each lesson. Always friendly and up for a chat, which always put me at ease. The LD system online and the workbook was also super helpful, especially for the theory test. Would highly recommend!!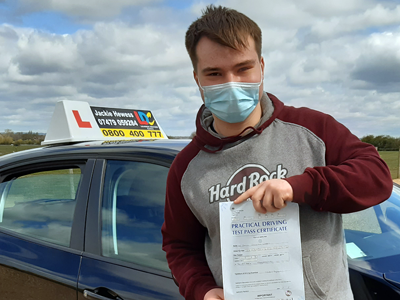 James Ward
Passed 1st Time
My instructor was friendly and easy to understand. She had a calm approach towards our lessons. Jackie gave good, clear instructions and explanations that I could follow. The LD workbook was helpful and gave me a lot of information on what the examiners were looking for such as 'show me tell me' questions and lots more. Jackie would also tell me what to practise so I could work on my skills between our lessons.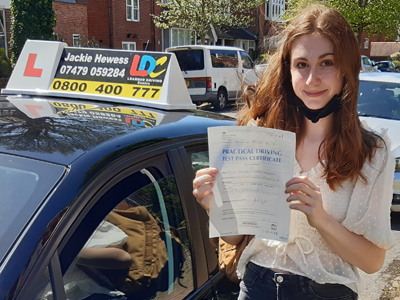 Honey Overs-Pearson
Passed 1st Time
I couldn't have chosen a better instructor than Jackie. She was extremely helpful and calm which helped me feel more relaxed when learning. She also kept me updated and was very helpful throughout the lockdowns. Jackie was a brilliant instructor and I will definitely recommend her to friends. I think she gave me enough confidence to pass first time! The student-centred LD system is a useful resource. It definitely helped me pass both my theory and practical driving tests.
Joshua Wheeler
Passed 1st Time
I can't recommend Jackie enough. I've had experiences of instructors that have put me off continuing my learning, I wish I had gone to Jackie sooner! Professionalism and patience are at the core of her teaching, which doesn't just aim to get you through the test but make you a confident and safe driver. Our lessons were interrupted by three lockdowns and despite a break of over 6 months in the car Jackie knew exactly how to analyse what needed more work and give advice which enabled me pass first time.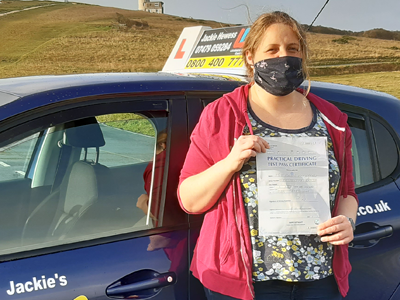 Rachel O'Reilly
Passed 1st Time
I was a very reluctant and anxious late starter to driving due to bad previous experiences, but starting with Jackie at 34 years old couldn't have gone better. Jackie put me at ease straight away with her calm approach. She gradually pushed me further, building up my confidence. The LDC book and online resources were great for helping with the theory and practical tests, and perfect for reading in between lessons. If it hadn't have been for Jackie, I'm not sure I would have continued and now passed the practical driving test. I wouldn't hesitate to recommend Jackie and LDC. I'm looking forward to booking Pass Plus in the new year. Thank you Jackie!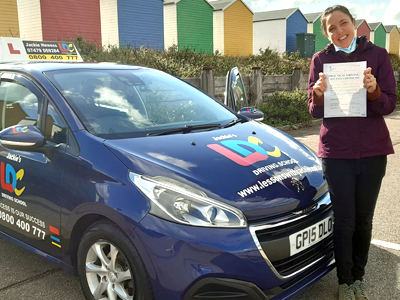 Tessa Pugsley
Passed 1st Time
Jackie helped me overcome all my driving issues and pass first time! She is patient, clear and always kind. Jackie offers positive feedback, tackling problems without ruining your confidence. I had a lot of problems with understanding the basics of driving and Jackie painstakingly went over and over things with me until I finally had my light bulb moment! That combined with the LDC handbook and Jackie's print-outs of roundabouts etc helped me visualise certain manoeuvres I found tricky, roundabouts and so on. I don't think I would have passed my theory without the handbook and online tests. I highly, highly recommend Jackie.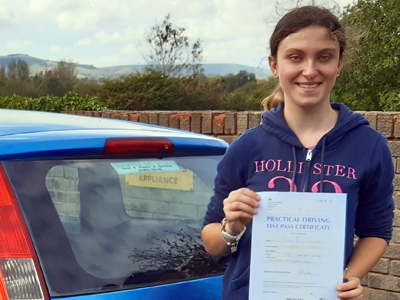 Rosie Peapell
Passed 1st Time in own car
My instructor was brilliant and I had a great experience learning to drive. All the resources provided were very informative and helped me progress through my theory and practical tests with ease. I will definitely be recommending LDC to anyone wanting to learn to drive. Many thanks to Jackie for all her help and support.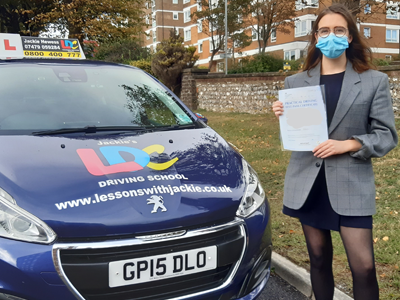 Lian Baker
Student centred approach
Learning to drive with Jackie has been a delight. Her background in teaching makes her one of a kind in her ability to teach concepts clearly, adapt to your nerves and anxieties, and create a clear and structured plan to a successful pass. Throughout my time learning to drive, Jackie has been incredibly calm, accommodating, and understanding. She has always made our lessons feel positive and has kept me feeling motivated. The student centred approach is fantastic at building your confidence and judgement skills, which will be of great benefit to independent driving in the future. I will miss our weekly lessons together, but am so pleased I have passed! Thank you Jackie!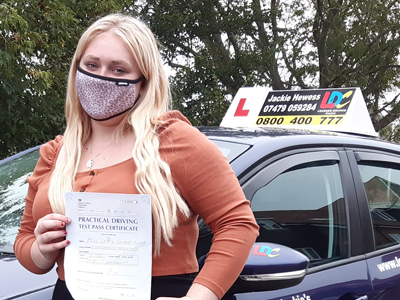 Saskia Lambert-Russell
Passed on 2nd attempt
I really enjoyed my driving lessons with Jackie, I felt very comfortable with her and confident. I never felt pressured to do anything I didn't feel I was confident enough to do and I have recommended her to everyone that's asked. I also found the LDC workbook and online system really helpful to help me pass my theory first time, and my practical test second time. I used the book to read through if I'd forgotten some information and actually read it on the morning of my test!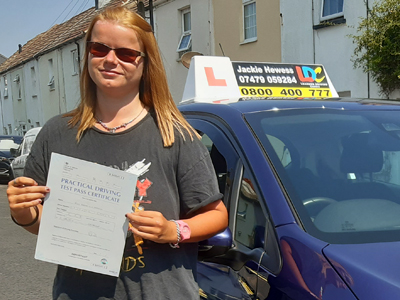 Amanda Gregersen
Passed 1st Time
I highly recommend Jackie as a driving instructor - I am so grateful that with her ongoing support I have managed to secure a first time pass on my driving test as well as learning many useful driving skills that I will always remember for the future! It's been an absolute pleasure and I could not recommend LDC/Jackie enough for all her patience and hard work. Thank you so much!
Helen Albea
Refresher lessons
I did a refresher course with Jackie and really enjoyed all of our lessons together. I am a nervous driver and Jackie was very patient and understanding. She adapted each lesson to build my confidence in any areas I was unsure of and her friendly, calm manner put me at ease. I would recommend her to anyone wanting to learn to drive or to improve their skills and confidence.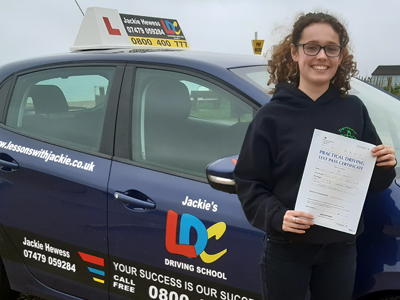 Chloe Hook
Passed 1st time.
Jackie was very friendly and easy to get on with, her calmness allowed me to relax and focus when driving. I found the LDC textbook useful when preparing for my test. I would recommend Jackie to anyone who is thinking of learning.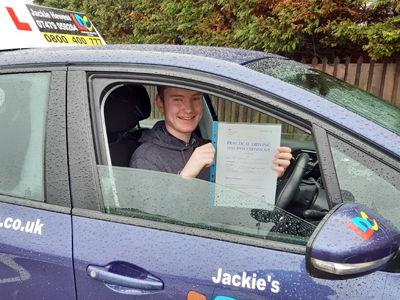 Brendan Harris
Passed 1st time.
Jackie is a really good instructor as she's patient, calm, friendly and tells you what you need to do clearly. I felt completely at ease in lessons and always looked forward to them. The LDC theory preparation is very useful as it has lots of resources for you to use and shows you what the actual theory test will be like. The mock tests are particularly useful because they show you what you must study if you get questions wrong. I think the LD system is very good as it clearly shows you the different areas of driving skills and the targets show you what is involved in the different manoeuvres and types of driving. The instructions are very clear and tell you how to complete tasks eg: Getting Moving and Parallel Parking etc. Thank you Jackie!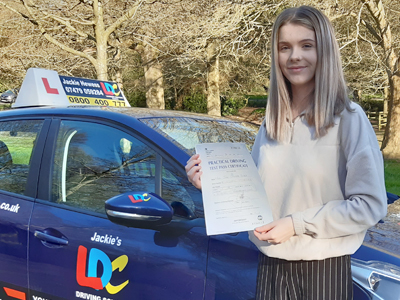 Jade Burch
Passed 1st time.
Considering my previous experiences of learning to drive and the fact that I hadn't had much luck with another instructor, Jackie was able to provide me with the reassurance and the confidence that I needed which ultimately led to my first time pass! Things that I found useful included: Jackie's willingness to structure the lessons around what I felt I needed to work on. I wasn't pressured into taking the test, we both decided on when the time was right and Jackie was very honest in regards to this, meaning that no money was wasted! Jackie's teaching style, this was something I really struggled with in the past with other instructors. I would 100% recommend Jackie to any new or partially experienced drivers (like myself) as she really helped me to regain my confidence in driving.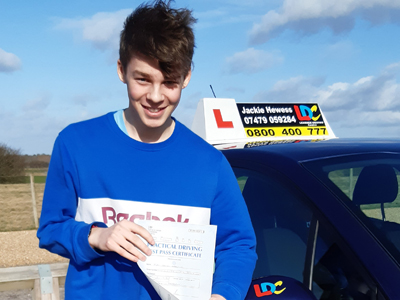 Ewan Hazeltine
Passed 1st time.
Jackie always acts calmly and patiently. Even when mistakes are made, she never shows any anger or annoyance, unlike many stories I've heard about other instructors. Her use of diagrams and step by step guidance gave me confidence and I never felt like I was in too deep. At the same time, the difficulty and progress was quick enough that I never got bored. It's also very helpful having the LDC book and online theory practice to track progress and save lesson time by learning on my own. Jackie was always encouraging, full of helpful advice and incredibly friendly. Thank you very much!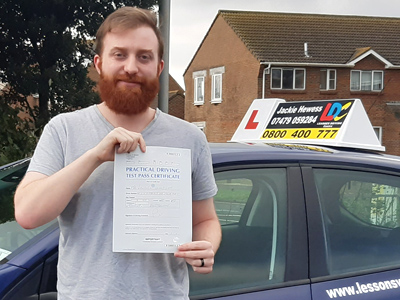 Laurien Woodgate
Brilliant driving instructor
Jackie has been a brilliant driving instructor. You can tell she used to be a teacher because she explains everything so clearly and patiently that it really helps you to pick things up easily. Jackie went through everything I needed to learn for the test in a very systematic and clear way, this definitely helped me to pass my recent test with only 4 minor faults! I've really enjoyed learning to drive with Jackie. She is very easy to chat to and has made the lessons an enjoyable experience and I feel I've learnt really good skills too. Thank you Jackie!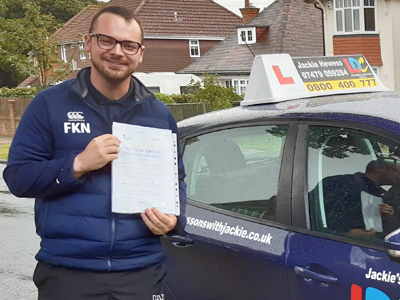 Frazer Knowles
Amazing driving instructor
Jackie is an amazing driving instructor I would recommend to anyone! Really easy to contact compared to other instructors in the area. She made me feel very comfortable from the start and has an amazing presence that makes you feel at ease and relaxed during something that can be quite stressful. Had many laughs during my learning experience which also helps. Nothing worse than having someone who doesn't have a sense of humour! Jackie has some amazing teaching styles (must have been from her experience as a teacher) which caters to everyone. Lessons are not 'do this, do that', it's more of a learning experience and a discovery. The book also helps with learning, allowing you to reflect on the lessons. I can't recommend LDC - Jackie enough. And thank you personally for getting me to not just pass standard, but an even better and safer driver!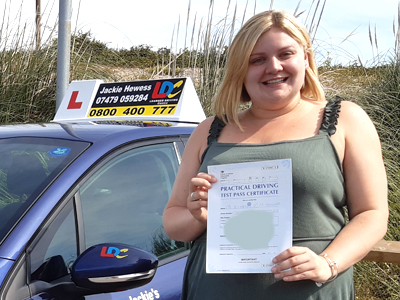 Kimberley Lockyer
Passed 1st time.
Jackie is a fantastic driving instructor and has continuously made me feel comfortable right from the start! I have really enjoyed my experience learning to drive with Jackie. With her calm nature and experience as a teacher, she has enabled me to feel confident during each lesson and built my lessons around my strengths to help me pass my test first time with just 4 minors. She has been so supportive and such an amazing teacher! I really couldn't have done it without her and I appreciate all of the help that she has given me. I would definitely recommend Jackie to anyone and everyone.
Kimberley Lockyer
Fantastic driving instructor.
Jackie is a fantastic driving instructor and I would 100% recommend her. She is patient, considerate, calm and explains everything with visuals which makes it very easy to understand. Jackie is very professional yet friendly and has a great sense of humour which is fantastic when you make an error as it is never a problem as she guides you through! Learning through LDC is brilliant because you get a workbook which allows you to follow your own path to prepare for your test. I find the topic target section of the book extremely useful as it also allows you to plan your next lesson. Each section of the driving skills workbook is broken down with visuals, revision materials and a quiz, which are brilliant for pre and post lesson evaluation. Learning with Jackie at LDC is the right choice to make, so if you are considering learning to drive, you couldn't choose a more reliable instructor in my opinion.
Laurien Woodgate
Good teacher
Jackie is a very good teacher and takes the time to explain things clearly, using diagrams when needed. She explains things clearly and enthusiastically and you can tell she has lots of experience teaching. The LDC workbook is useful as it has diagrams of manoeuvres and scenarios that you can see ahead of a lesson to get prepared. Her car feels very comfortable to drive and is similar to the car I will be driving when I pass.